Financial Aid
Indiana Choice Scholarship Program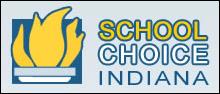 Woodburn Lutheran School is a participating school of the Indiana Choice Scholarship program. Qualification requirements and applications are available by calling the school office, or by visiting the IDOE website, www.doe.in.gov.
Woodburn Lutheran School Tuition Assistance
Woodburn Lutheran School Tuition Assistance program is designed to help families who are unable to meet the financial obligation of full tuition and fees. If your family does not qualify for an Indiana Choice Scholarship,  you may still be eligible for tuition assistance.
To qualify for this assistance, families must demonstrate a financial need. Woodburn Lutheran School uses PSAS, (Private School Aid Service), to process financial aid applications.  This ensures a fair and confidential application process.  After reviewing the applications, PSAS sends WLS a report and WLS distributes their funds accordingly.  Financial awards are based on a family's demonstrated need and the availability of Woodburn Lutheran School tuition assistance funds.
Applications must be completed and postmarked by June 15, prior to the start of the school year.
PSAS applications are available, pick up only, in the WLS school office. Parents will be notified of awards by the middle of July.